2015 Kid Counter!
Bucks: 13 | Does:13
" THIS SITE IS A WORK IN PROGRESS"
We are located in Southern California in the Antelope Valley High Desert in the outskirts of Rosamond, CA. We live close to the historical Willow Springs International Raceway.  To the south of us is the twin cities of Lancaster and Palmdale.  It does get "hot" here and the "wind" is something else to talk about.
I am a country gal and love the outdoors.  I have had horses for awhile and then when I moved onto my little haven of about 4.5 acres my farm grew. First came the chickens.  Fresh eggs! Then I had been toying with this idea about getting goats for fresh milk and cheese.  One day it become reality when I had stopped at a tack sale. Someone had some nigerian goats there in a pen for sale.  They were absolutely adorable.  Well I think you know how that story goes.  From there, the herd just grew.  You know that saying goats are like potato chips, you can't have just one!  Well it didn't stop there with the Nigerians. Before I knew it, a few LaManchas joined our herd.
My ultimate goals for my herd is to be healthy using natural methods and remedies, have good body structure, temperament and improved milk productivity.  Currently we are a closed herd. 
Questions, Comments, Concerns? Or anything else? Contact us!
Cindy Davis
Rosamond, CA
93560
rustytinfarm@gmail.com
1.661.202.0507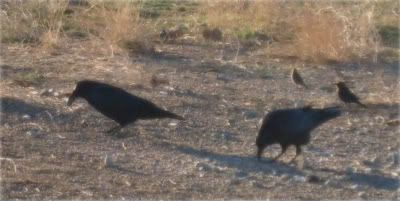 Our livestock guardians, Papa Bird and Big Mama. And yes, they are ravens. They aren't tame; they're completely wild birds, but they have made our property their home. They help keep the hawks and coyotes away during the day. They nest across the street on the telephone pole and bring their youngins over to visit.  It's pretty cool. :)
-------------------------------------------------------------------------------------------------------------------------------------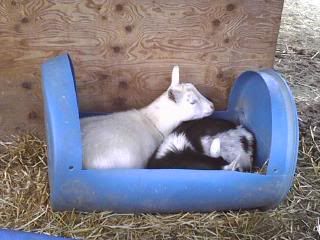 Brawn and Cerri cuddling together in a straw filled barrel.
 Chance(nigie buck), Strawberry(sable wether),and Georgie(lamancha buck) all sunbathing while the weather's nice. Jimmy's in the background wanting some sun, too!  Chance did not want nothing to do with the other nigerian bucks.  He kept getting in the Lamancha buck pen so finally I just let him stay.
Aphro chilling on the spool, while Marigold, Autumn, and Hillary raise the bar. ;-)
 Cute little pregnant Breezy, relaxing by the slide. I didn't notice her until after I took this, but Pepper is under the slide (you can't see her in the pic, sadly.)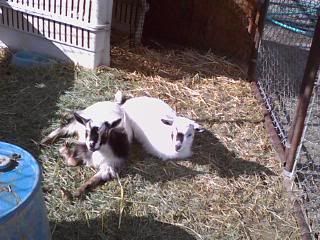 Abigail and Avalanche sunbathing together.